Cooking lessons in Sicily's timeless wine country
Sicily's cuisine is born of the land, and our island's rural atmosphere - far from the crowded if interesting cities - is the perfect place to learn to prepare a few traditional Sicilian dishes. These cooking classes in the kitchen of an aristocratic estate of olive groves, an organic farm and endless vineyards offer a pure taste of three thousand years of culinary history. In fact, Segesta's ancient Greek temple is only about 30 minutes away.
The Testa family has owned Tarantola (yes, it shares the name of a spider) for a couple centuries. They were Counts of the Holy Roman Empire - a 17th century title owed not to Germanic roots but to the Hapsburgs' rule of Spain and Sicily for a few hundred years. They've cultivated grapes for nearly as long, and today Count Filippo Testa produces his own wine.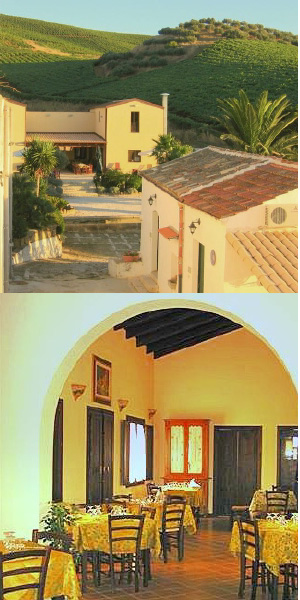 Sicily boasts a number of distinguished wineries in this region and around the island. Lying along the hills between Alcamo and Camporeale, Tarantola is located in what is Sicily's traditional grape-growing area. The Elymians, followed by the Greeks, cultivated vines here almost three millenia ago. Then came the Romans and each civilization that conquered Sicily over the ages.
The joy of these classes is that immediately following the lesson you'll eat what you've made during a leisurely lunch complemented with Tarantola's wines. Lucrezia, the estate's chef, will show you how to prepare several seasonal dishes. A typical menu is Trapani-style sfincione (a traditional, thick Sicilian pizza without cheese), caponata (a cold salad of aubergines, celery, olives and capers), pasta and a simple meat course - though a vegetarian menu can also be prepared.
These are exclusive classes for up to around a dozen participants with practical "hands on" participation. This means private lessons for you and your group, not others you don't know - that alone distinguishes this experience from the cooking lessons offered by most of our competitors in Sicily and around Italy. These cookery lessons include a guide/interpreter (Lucrezia speaks very little English), either Jackie Alio or a member of her team.
A brief visit to Segesta can be included early in the day (at no additional cost but not including the site admission fee), with a focus on the temple rather than the entire archeological site, which one could easily spend an entire day exploring. This presumes arrival at Tarantola by around 11. Tarantola's special seasonal programs include the grape harvest in early September and the olive harvest in October, magical experiences in the Mediterranean agricultural cycle.
The following prices include transportation from Palermo, with a scale based on the number of participants in your group:
• 2 participants - 220 euros each
• 3 participants - 185 euros each
• 4-7 participants - 160 euros each
• 8-9 participants - 150 euros each
• 10-14 participants - 140 euros each.
Contact Jackie to begin planning your visit to Tarantola.